We are with you with the second part of my article entitled Seo Do not Bail. Previous headings "Good keywords (keyword) very competitive" and "search engine optimization requires a lot of expenditure", respectively. Let's continue listing the excuses for not having Search Engine Optimization from where we left off.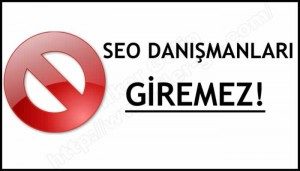 Interference with the web – No budget for a new design
Think of a company that is marketing a fire extinguisher. You have been in this business for many years and know your business. I am a customer and I said I want a Fire Tube, but if you are purple and informative, you probably will not think of anything about it, unless it's different than it is now. Well, I wrote this example. Web design, web accessibility, search engine show you index your site, and so on. many firms that do not have knowledge about the subjects are making requests with the following requests: "Let's make the page very mobile", "colorful, chirpy", "put music", "put all the pictures of the products on the site's opening page". The bad thing about this is that companies with similar sites are applying to SEO competent people with "I want to have SEO work for my site, I want to be in the first place in Google" requests. As the SEO specialist, the site's Google search engine rank examines the situation of the competitors and starts to sort out what needs to be done, the following dialogue develops between the firm owner and the SEO consultant
SEO Advisor: According to my observations, there are only images on many pages, including the opening page of your site. You should not enter the promotion of the products found on your site like this, company information.
Firm Owner: I do not need it either. Let's not touch the site so beautiful at all. Let's just be the 1st in Google.
In this case, the action that the SEO advisor should do is to say "Good afternoon" and then move away from there. If you suggest this article to the owner before you go away, maybe you can catch the error.
I earn well without the internet
The most important goal of every firm is to profit. We have your site but only as an image. I saw a lot of people who thought, "The customer came from the Internet ." What if it comes? Moreover, investing in a very low percentage of your income will not be foolish if you come more than your current customers and get more leads.
Targeted and No-Target Presentation
You came home, you came home, you opened the door and what's the room? We met you with a very interesting publicity brochure that was taken from the bottom of the door. I suppose if you scratched and burnt it like I did in me. Or everyone knows that you never give your attention to the spot when you have ads that do not attract your attention on the radio. Companies that allocate a lot of budget for these targeted promotions are seeing too much for the promotion work that can be counted as very low compared to these budgets for SEO, and also almost entirely targeted. Yes, you will do for your site, there is no way to promote as much as the SEO work. If you think well, you will also be entitled.
Posted on February 18, 2009, by admin on Internet, SEO, Sectoral category it is written.
I look forward to your ideas about the article. Please help everyone by participating. Thanks in advance.